Total Ankle Replacement in Eau Claire, Chippewa Falls, and Rice Lake, WI
What Is Replaced In An Ankle Replacement?
If you've suffered a severe ankle injury that requires a full ankle replacement, there are some important things you need to know. As frightening as your upcoming surgery may seem, the truth is ankle replacement surgeries have proven to be very effective, oftentimes helping restore full function in patients' feet.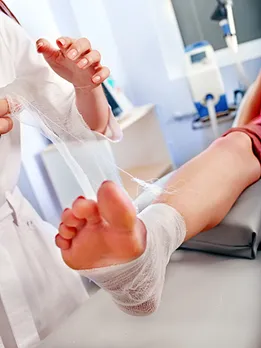 At Foot & Ankle Clinic, foot surgeons conduct ankle replacement surgeries to ankle joints that have been severely damaged. Ankle replacement surgery involves replacing damaged ankle bone and cartilage tissues with artificial joint parts known as prosthetics.
Some of the leading reasons for ankle replacement surgery include:
Arthritis, often due to a previous ankle surgery
Bad bone fracture
Severe ankle infection(s)
Osteoarthritis
Rheumatoid arthritis
How Ankle Replacement Works
During a typical ankle replacement procedure, your foot surgeon will first administer anesthesia so you won't feel a thing. Then, he/she will make an incision in your ankle in an area that greatly exposes your underlying ankle joint. Next, your surgeon will remove your damaged ankle bone and cartilage structures, replacing them with a new artificial joint that gets permanently attached to the still-existing bone structure beneath. Surgeons are able to hold the artificial joint to the bone with the use of a unique cement that your body's immune system will accept.
Once the joint is placed in your foot, a piece of plastic will be placed between the metal sections of your new joint. Your surgeon will then close up the incision using stitches, completing your full ankle replacement.
It is recommended that patients wear protective footwear, like a splint, cast, or brace, as the wound heals. Also, patients should have another person take them home following the surgery and have continued second-person care for the first 24 hours after the procedure.
Contact Us Today!
For more information about ankle replacement surgeries and how they can successfully restore your foot function and relieve persistent pain, call Foot & Ankle Clinic today at (800) 359-4421